Learn How We Can Help You with Our Spinal Decompression Therapy
Spinal decompression has proven to be an effective way to relieve pain linked to compression of the spinal column. Decompression therapy is safely performed at Ponte Vedra Wellness Center and is good for back and neck pain caused by pressure on the spinal nerve.
What is Spinal Decompression?
A bundle of nerves in the spinal column called the spinal cord help to send pain signals and messages between the brain and body. Decompression therapy by a chiropractor is an FDA-approved, non-surgical technique that involves stretching the spine to take pressure off the spinal cord, alleviate pain and pinched nerve symptoms, and increase disc space.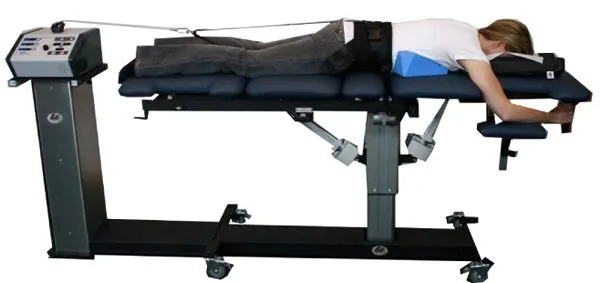 Common Symptoms of Spinal Cord Compression
Stiffness or debilitating neck or back pain is common and may occur with numbness or tingling along the path of the affected nerve. Pressure on the nerve in the lower back spine can cause a painful condition called lumbar radiculopathy. Similarly, a pinched sciatic nerve can cause sciatica, which triggers pain, numbness, tingling, or weakness in the lower back, buttock, thigh, or foot.
Spinal Cord Compression Causes and Risk Factors
The cervical (neck) and lumbar (lower back) spinal regions are more prone to compression because of being highly flexible and due to:
A ruptured or herniated disc
Bone spurs and tumors
Degenerative diseases such as arthritis
Spinal stenosis
Swelling or inflammation from spinal cord injury
Spinal Decompression Therapy in Ponte Vedra Beach, FL
We may recommend decompression therapy after a thorough exam and spinal screening to confirm if your symptoms are related to pressure on the spine. Dr. Hamer has years of experience with this type of therapy and will provide you with a customized and comprehensive care plan that aims to correct the underlying problem for the pain.
With the help of the Kennedy Decompression Technique and the KDT Neural Flex Table, we can apply traction motion to stretch the spine. This increases the spacing between the backbones and pulls the disc away from the nerve. The long-term benefits include less pain, reduced inflammation, increased mobility, and healing of the disc. Overall, it can take several treatment sessions during a six to eight-week period to achieve the best results.
Sometimes we combine decompression with chiropractic adjustments, corrective exercises, and nutrition counseling to help enhance wellness.
Holistic Pain Relief from a Certified Chiropractor
Natural relief for neck and back pain starts at Ponte Vedra Wellness Center. The treatments we offer go beyond the temporary relief provided by habit-forming painkillers, and can even prevent invasive surgery. Our team is waiting to help you recover fast! Call (904) 273-2691 to book an appointment today.