Meet Our Training Staff
The Ponte Vedra Training Company offers personalized, medically-supervised one-on-one training with one of our certified personal trainers. In general, our fitness sessions focus on balance, strengthening the major muscle groups and improving flexibility but are specifically designed to achieve your fitness goals. We work with all ages and all fitness levels - it is never too late to improve physical fitness!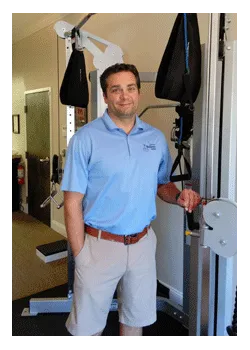 Jeff White is one of the founders of the Ponte Vedra Training Company and oversees the program as well as trains individuals one-on-one. Jeff is a trained firefighter and paramedic and has worked with Clay County Fire and Rescue since 2008. In 2012, Jeff received his AFAA Personal Training Certification and as someone committed to living a healthy lifestyle, he is able to empart a great deal of enthusiasm for fitness to his training clients. Jeff was born and raised in Buffalo, New York and moved to Florida in 2001 to pursue his career in firefighting.Jeff is married to Dr. Erika Hamer and together they have a son, Ashton. In his spare time, Jeff enjoys all types of outdoor activities and loves to golf.